Description
Samlex SEC-1212CE is a high efficiency AC-DC power converter that provides a highly regulated output DC voltage of 13.8v at 10A with an AC input of 230 Volts @ 50 Hz. Designed specifically for two-way radios, the Samlex SEC-1212CE has almost no audibale noise allowing your two-way radio conversations to remain crystal clear.
Designed for Two Way Radios
SEC-1212CE is an advanced switch-mode DC power supply designed specifically to be used with Samlex's radio cabinets (top boxes) to allow a moile two way radio to be used as a base station two-way radio as shown here.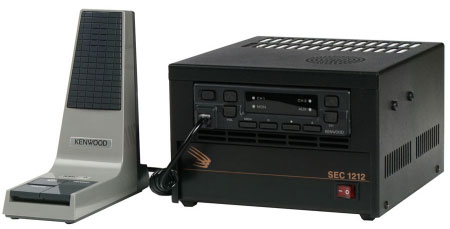 Clear & Reliable Power (No Buzzzzz)
SEC-1212CE produces clean reliable power and are highly filtered to suppress RFI (unwanted noise on the radio).
Included
Detachable IEC-type power supply cord.
Radio Cabinets are sold separately.
Features
Over-current Protection
Short-circuit Protection
Over-voltage Protection
Rear Terminals
Rack Bracket Options (SEC-R1 & SEC-R2)
Conformity: The SEC-1212CE power supply conforms to EN60950 safety standards and EN55022 class B, EN6100-3-2,3 and EN61000-4-2,3,4,5,6,8,11 EMI/EMC standards.
Radio Cabinet Reference
Order Code
Order Code
Brand
Model
12480-H
Harris
XG-25M, XG-75M, XG-100M, M7300, M5300
12440-H
Hytera
MD782 & MD782i
12200-I
Icom
IC-F1105/F2105, IC-F110/F210, IC-F1215/F2215, IC-F121/F221, F5121, F6121, F5011, F6011, F6021, IC-2820H, ID-880H-05, IC-400, IC-410PRO
12333-I
Icom
IC-F5061/IC-F6061, IC-F5063/IF-6063, A120
12540-I
Icom
IC-F5400D/F6400D/7500
12450-K
Kenwood
NX-3720, NX-3820, NX-5700, NX-5800, NX-5900, TK-730, TK-5830, TK-5930, TK-7160H, TK-8160H, VM5000
12250-K
Kenwood
TK-7102, TK-7180, TK-8180, TK-7360, TK-8360, TK-7302, TK-8302, NX-700, NX-800, NX-740, NX-840, NX-720, NX-820, NX-920, NX-900, NX-901, TK-D740, TK-D840, TM-281A, TK-8102, (These Models also fit with 12450-K)
12060-M
Motorola
TLK150 POC Series
12220-M
Motorola
GM328, GM338, GM339, MCX700 Series
12337-M
Motorola
MOTOTRBO DM3400, DM3600, and GPS Series
12430-M
Motorola
MOTOTRBO DM4000/4000e Series
12345-M
Motorola
XTL 1500, XTL 2500 Mid Power, XTL 5000 Mid Power, APX 6500 with 05 Control Head Mid Power
12491-T
Tait
TM 9300, TM 9400
12280-V
Vertex
VX2200, VX2100, EVX-5300/5400, VX4500, VX4600