Description
Motorola DLR1060 is an ultra-compact and ligthweight two way radio that enables extremely discreet and clear communications between staff members. This lightweight radio, with its sleek styling with unique features that will take your organisation to a new level of performance and operational excellence.
Motorola DLR1060 Bundles:
Motorola DLR1060 Includes
Note – please read carefully: Charger sold separately (please select when ordering). See information about charger options below.
Motorola DLR1060 Features
Clear, Reliable Communications: With the DLR digital technology you speak clearer and louder across an extended range without radio static. DLR1060 allows you to talk further and clearer up to the edge of coverage – a true advantage over analogue radios.
Small & Lightweight: DLR1060 is intuitive, simple to use, and convenient to carry.
Licence-Exempt & Hasstle Free: The DLR1060 is completely licence exempt. That means there are no ACMA licensing fees, or ongoing costs.
Interference Free & Private Communications: The DLR1060 two-way radio makes your communications more private by utilising Frequency Hopping Spread Spectrum (FHSS) technology. There will be less inteference or collisions between radio users. This makes communication more reliable and private when compared to standard analogue radios.
Private Communications: To take advantage of Private Communications, you can quickly set up your radio fleet with a unique Radio Profile ID Number. By choosing from 10,000 available codes, you can assure privacy from other neighbouring radios. This can be done using the radio – programming software is not required.
Private Reply: Free-up the radio channel by allowing two people to instantly connect privately after a group transmission is complete using the private reply feature. This eliminates unnecessary group chatter. You no longer have to look for the phone extensions to talk privately. Simply identify the name of the person you want to talk to and when they respond, push the radio top button to start the
communication.
Direct Call: In some organisations, it is critical for an employee to quickly access the manager on duty. By programming the top button to Direct Call, you can easily reach a specific individual, enabling instant communication and an immediate response.
Page All / All Call: It can be difficult to communicate to an entire group without having to go to each channel individually. The Page All Available and Call All Available feature provides you the flexibility to communicate a message to everyone who is not currently tied up in a conversation. Simply
program this feature into the top button or set it to an unused channel.
Instant Mute Feature: Immediately lower your radio volume to the minimum level by simply pressing the radio top button. Use this feature when you need to listen to a customer without interruptions. Quiet background radio communications can still be heard and will remind you to return to normal channel activity.
Talk Permit Tone: Promotes orderly communication through the use of a prompt tone that alerts team members when a channel is available and they can speak.
Home Channel: Designates a specific channel as "home" so the radio automatically reverts back if the user was speaking on a different channel. This feature can be easily modified through the radio Advanced Configuration Menu (see below).
Voice Prompts: Navigate easily through channels, check battery status and customize features in Advanced Configuration Menu with user friendly voice prompts.
Extended Range: Communicate across an extended range of 250,000 sq ft and up to 18 floors*. With digital technology, you can communicate clearly up to the edge of coverage without the static often found on analog radios.
Advanced Configuration Menu: Configure special features such as a unique Radio Profile ID, Home Channel, MIC Gain and maximum number of channels. It also allows you to customise the Top Programmable button with different options such as Private Reply and Call All Available. Refer to the User Guide.
PC Programmable: Personalize your channel voice prompts, channel alias names, radio name, top button, channel number and much more by using the free programming software (programming cable sold separately).
Long Battery Life: The included Motorola HKNN4013 battery allows up to 15 hours of use before the DLR1060 will need to be recharged.
Reliable & Durable: DLR radios meet test methods from Military Standards 810 C, D, E, F and G, including shock, vibration, extreme temperatures and dust. Tough, polycarbonate housing contains built-in antimicrobial properties that inhibit the growth of bacteria and mold on the radio surfaces.
Need Accessories? We also sell Motorola DLR1060 Accessories
Charging Options
Motorola DLR1060 is supplied without a charger. This is because the DLR1060 has multiple charger options. It would make no sense for you to pay for a single charger if you wanted a multi-way charger. The options are a single charger, 6-way charger and a 12-way charger.
Note – please read carefully: We offer a discount when you buy a charger at the same time as buying the radio. It's important to ensure you take advantage of this at time of purchase as retrospective discounts are not possible.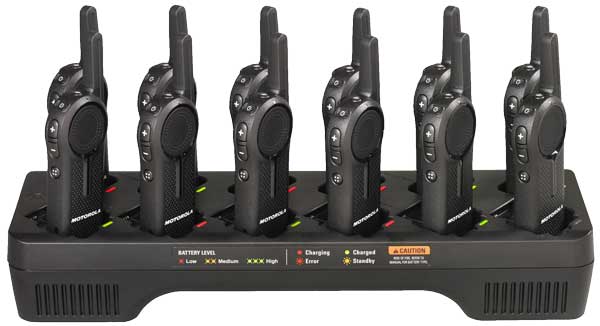 Motorola DLR1060 Programming, Config & Licensing
Aside from a few things that can be configured, the DLR1060 really is pre-programmed and ready to use. You don't need a licence to use the DLR1060 as it operates on a licence-free band.
FREE Programming: Whatever happens, programming & configuration is always FREE form Radiotronics.