Description
Motorola EVX-261 (previously Vertex Standard EVX-261) is a compact durable DMR digital two way radio.
Note: Price shown is including GST.
Included
Motorola EVX-261 DMR Digital Two Way Radio (VHF or UHF, select when ordering)
Motorola FNB-V134LI-UNI 2300mAh High Capacity Lithium Batteries
Motorola Antenna (Depends on VHF or UHF)
Motorola CLIP-20 Spring Belt Clip
Quick Reference (Very Basic) Guide
Video
Note: Whilst this video is for the Vertex Standard EVX-261, the Motorola EVX-261 is the exact same radio.
Features
16 channels
2 Programmable Buttons
Superior Audio Quality (When compared to VX-261)
Ultra-Loud Audio (Via Internal 700mW Speaker)
Transmit Interrupt ²
Works with the Vertex Universal Battery System
Emergency Alert
Lone Worker Alert
Multiple Scan Options
ARTS™
Voice Activated PTT (VOX) – Only When Used With VOX Accessory
All Call/Group Call/Individual Call ²
Transmit Interrupt (decode only) ²
Dual Capacity Direct Mode ²
Basic Privacy ²
MDC1200® ANI Encode ³
2-Tone Encode/Decode ³
5-Tone Encode/Decode ³
CTCSS/DCS Encode and Decode ³
Remote Stun/Kill/Revive (5-Tone) ³
² Works in digital DMR mode only.
³ Works in analogue mode only.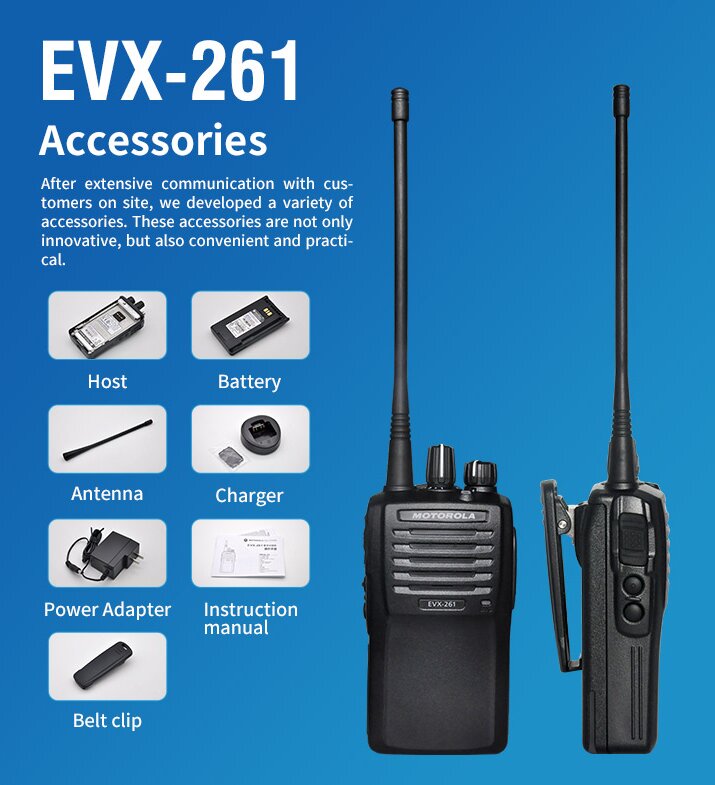 Further Reading
Motorola / Vertex EVX-261 User Guide (Free Download)
Motorola EVX-261 at MotorolaSolutions.com