Description
Motorola CLP107e is a high performance compact and programmable 1W UHF two-way radio designed for retail and hospitality. 8 fully programmable channels means that CLP107e can be programmed (see programming below) to work with your current system or as a brand new fleet.
Also see: Motorola CLP107e Accessories
Included
Motorola CLP107e Radio Itself
Quick Start Guide
User Guide
Charger Is Optional When Ordering
Charger Options
The Motorola CLP107e is not supplied with a charger as standard. You can choose a single charger or 6-way charger. As always, it's always cheaper to order the charger when you order your radio(s) as the discount cannot be offered retrospectively.
Motorola CLP107e Features
With rising pressure of online shopping and visitor reviews, customer experience in retail and hospitality is a top priority. This discreet radio allows team needs to be permanently connected with instant communications to respond quickly to customer requests and provide premium service.
From back-of-house to front-of-store or the bar, this radio is your stylish and essential team communications tool. CLP107e is built to last all day, everyday, in retail and hospitality.
Stylish Design: Looks fantastic.
Discreet: Doesn't get in the way or look unsightly.
Programmable: Back-to-back (no repeater); or repeater cable.
ACMA licence required: Privacy & interference free.
Large PTT: The PTT is large and textured, meaning it can be located even with gloves on or in the dark.
Improved Earpiece Jack: More robust earpiece jack (when compared to CLP107).
Improved Housing: Improved durability with new polycarbonate housing.
Long Lasting Battery: CLP107 now uses HKNN4013 BT90 battery for a solid 8-hours of continuous use.
Improved Audio: Louder and clearer audio (when compared to CLP107).
Glow Ring
There is a Smart Status Glow Ring right in the middle with a multicoloured LED with 8 colours to indicate the CLP107e current status.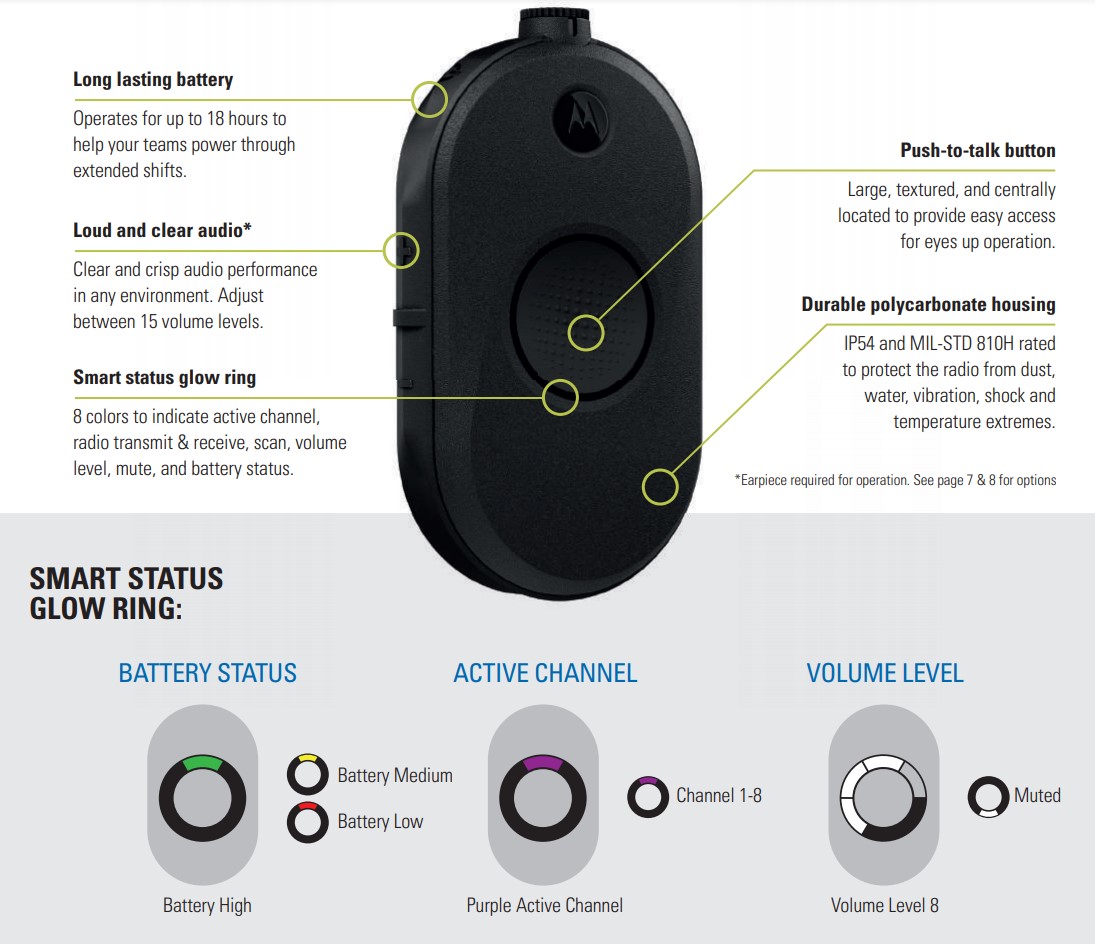 Programming & Licensing
Like it's predecessor, Motorola CLP107e requires an ACMA licence and will require programming. Radiotronics is happy to this for you prior to delivery – just send us your AMCA licence, or we can arrange for for you.
If you are already an ACMA licence holder and you feel comfortable programming your CLP107e yourself, you can download the programming software (FREE of charge) and the cable is Motorola HKKN4027.